Taking a break! will be back in 2022!
Here's a list of commissions that I provide and their prices! Feel free to email me at maryliart@gmail.com or DM me on my Instagram account if you would like to commission me or for more information.
If you can't find what you're looking for, email me what you'd like me to do at maryliart@gmail.com and I'll see what I can do!
[CLOSED]
Character  Reference Sheet
For character sheet commission, factors that can affect the final price:
The complexity of the design
How symmetric your character is
Number of figures
Type of finish (flat colours, cell-shaded or full colour)
If you have a drawn version of your character; how many references you provide me to work with; how detailed your description of your character is etc
how customised you want your reference sheet to be
Is it for personal or commercial use
etc
[CLOSED]
Custom Emote Commission 
[CLOSED]
Semi Realistic Anime Style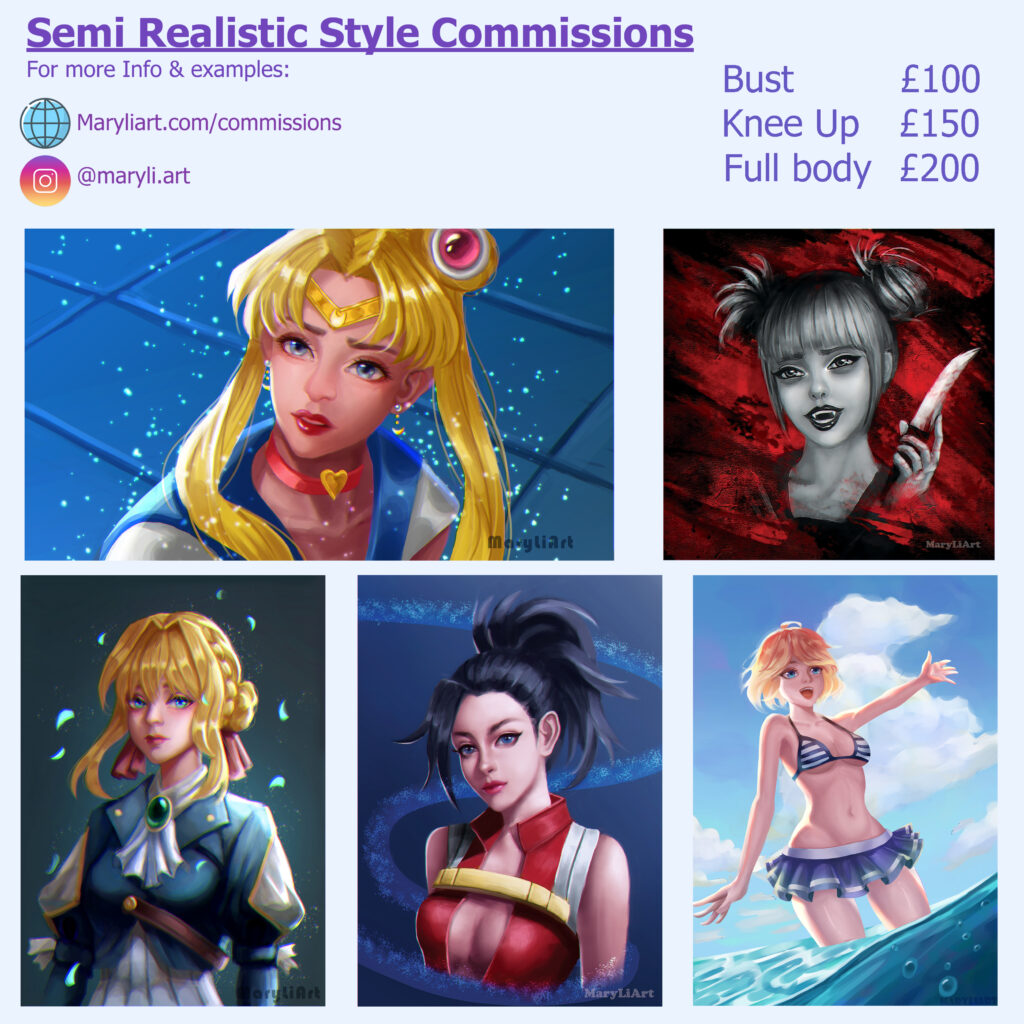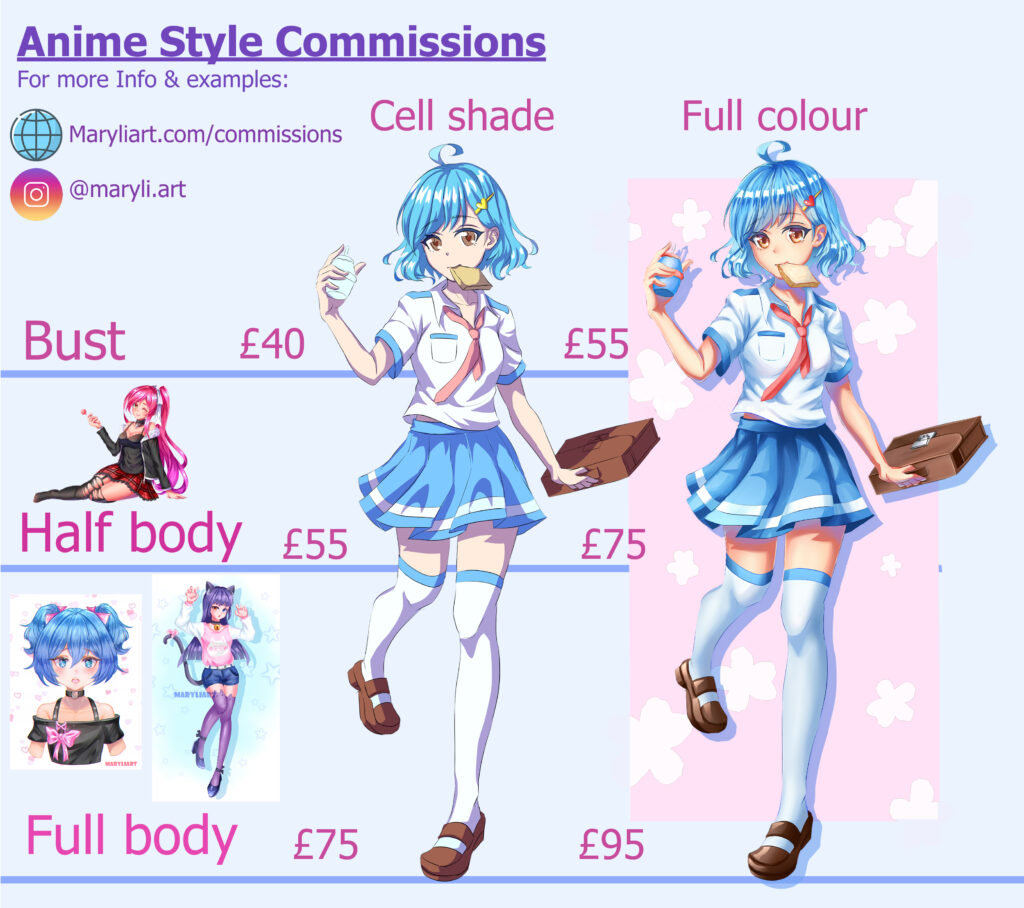 Commission process
Contact me about your commission (see top of page for contact details).
I'll get back to you with a final quote (I might need to ask more questions if you don't provide me with enough so I can provide you with a more accurate quote)
If you accept the price, make your payment, then I will start with the commission.
Please provide me with reference photos if you want a certain pose or character.
Commissioned artworks are for personal use. Contact me for commercial use.
Please be patient as I may take longer depending on the list of commissions I have at the same time, how complicated the commission is etc. I will send you work in progress pictures as I work.
I will reject commissions that I'm not comfortable with.
Please do not remove my signature /watermark when sharing the work online.
I will post the finished artwork on my social media and as example work for my commission listings.
Please credit me where possible by linking to my Instagram or here when sharing my work online.
Making changes
For line art commissions, you can make changes during the sketching stage, once you're happy with the sketch and I start lining, I will not accept major changes. I may accept minor changes depending on the situation.
For coloured anime or Chibi commissions, I won't accept major changes after I start lining. For colouring, I can make colour changes during the base colouring stage, once I start more detailed colouring, I won't accept major changes. Minor changes are acceptable depending on the situation.
For character sheet commissions, once the character design is finalised, any changes after that will be charged depending on how much work it'll take to change everything.
Payment Information
I prefer Paypal transfers or Etsy payments. Please contact me if you prefer other payment methods.
Pay in full upfront. Half payments acceptable if the commission is around £100 or above. Once I've received the payment, I will start working on your commission.
The prices listed above may change depending on the complexity of the commission. 
Refunds
Full refund if I have not started working on your commission after you've paid and want to cancel.
For line art commissions:
If I've not started, full refund
If I've started sketching, 50% refund + sketch version
If I've started the final lining stage, no refund + finished lineart
For coloured anime style, Chibi and emote commissions
If I've not started, full refund
If I'm only at the sketching stage, 75% refund + sketch version
If I'm on the final lining stage, 50% refund + the finished line art
If I've started colouring, 25% refund + artwork with only base colours
If I've started detailed colouring, no refund + finished artwork
For character sheet commissions:
Depends on the situation since the process can be quite complicated.