Art challenges come and go all the time, there are yearly challenges like Mermay (where you draw mermaid related drawings every day in May), Drawcember (where you draw something every day in December), Inktober(where you draw something every day in October that's ink-related) etc or ongoing ones like art style bend, draw this in your style, 6fanarts etc. New art challenges are being created all the time to help motivate us to draw, push us out of our comfort zoon to try out new things. Joining art challenges is also fun and lets you interact with other artists who are joining the challenges too! You can even create your own challenges and your own rules!
In this post, I will be sharing with you my process with the 'art style bend' challenge that has become very popular recently! The video below is my process for the drawing. Please subscribe to my Youtube channel if you're interested in seeing more of my drawing time-lapses!
What is the art style bend challenge?
In simple terms, the 'art style bend' challenge is simply for you to draw something that's different from your usual style!
Firstly, you'll need to look at your past artworks and find out various characteristics in your art and makes your art style. Then, throw them away! So for this challenge, you'll draw something that does not include any of the characteristics that make up your art style!
This challenge will push you to try out new things and hopefully, you'll learn something new or discover a different art style that you like!
Try out the 30 Days Free Trial! The digital painting software for illustration, comics and animation!
I asked my followers on Instagram about the characteristics of my art style. Here are the rules for this challenge:
no girls
no big eyes
no clean line art
no chibis or cute drawings
no bright colours
no sparkles or shiny effects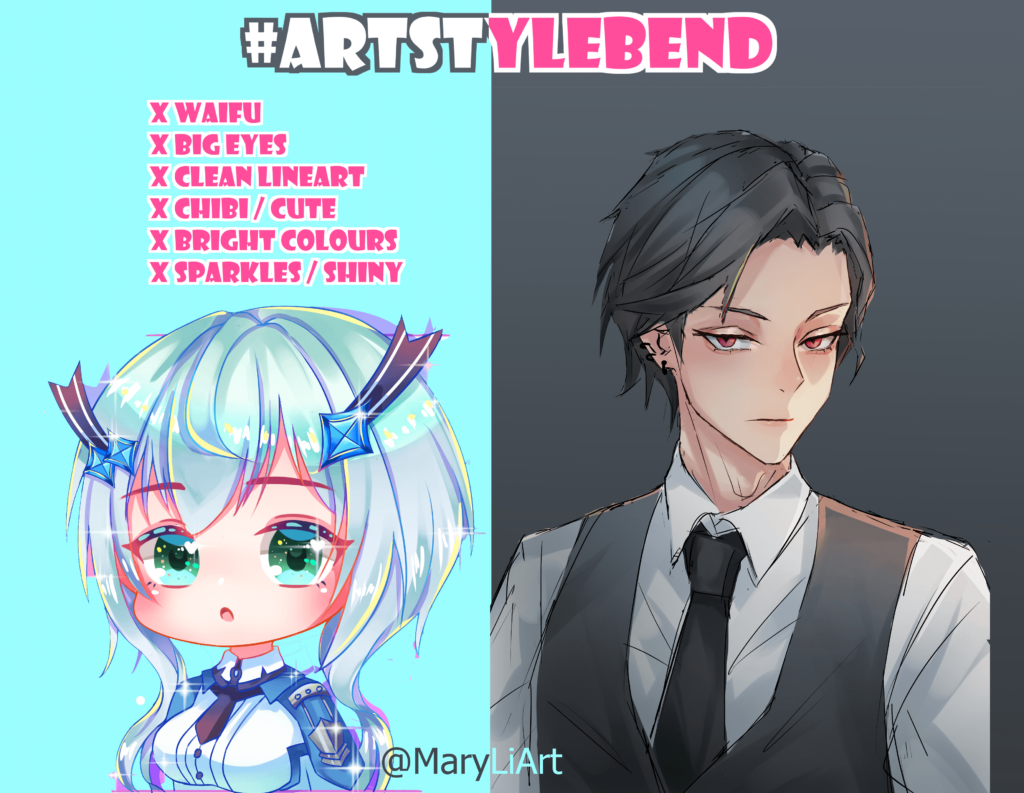 Below is my final drawing for the challenge! Overall I really liked it myself! The lines felt rougher than I'd like. There are other things that I will try to change in the future. However, I think it's a good try! I've always been afraid of drawing males but after this challenge, it seems less daunting and I'm more motivated to try drawing more males!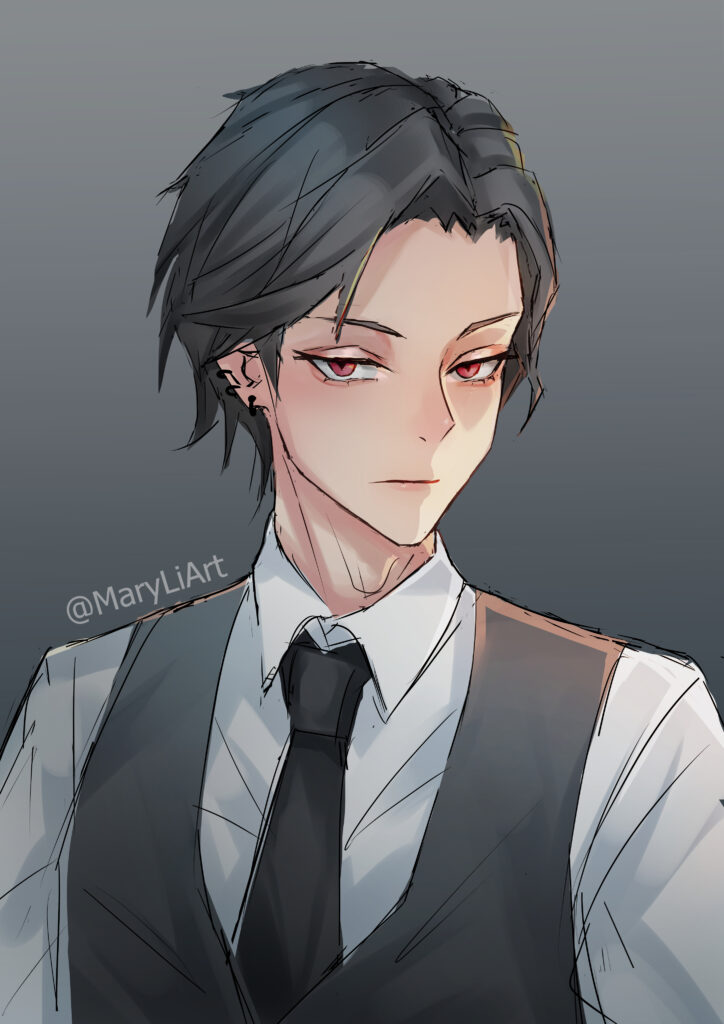 Process
I started out with the pose and outfit. I wanted him to have a bartender feel so I looked up some references for bartender uniforms. However, he also looks like a businessman with a tie.
One of the biggest difficulties for me would be trying to draw a male character. I mostly draw females so when I draw males, they look more feminine than I'd like. To try to solve this, I looked at some artworks for reference and found out some of them have sharp and edgy lines, which is very different from my usual smooth and more curvy lines. So I decided to try that out in this drawing to help my character look less feminine.
I then went over the sketch version with cleaner lines, but taking note to keep them rough and sharp and not too clean and curved like how I'm used to with line art. I also made lots of fixes on the face as I'm not used to drawing the male anime face. References really help a lot here!
I tried adding a pair of glasses to the character but it gave off a secretary feel instead so I gave up on that idea.
On to the colouring part. I need my colours for this drawing to be more muted in tone, unlike my usual style which is very colourful. So I have the hair and clothes all in grey. I also have the skin colour more towards the cooler and muted tone as well.
For this drawing, I also tried a different way to shade as well. I tried making the shadings less obvious and softer than my usual style. In the end, I added in some lighting to make the drawing slightly more interesting to look at.
Tips for working on this challenge
If you're interested in joining this challenge and are wondering how you can get started, below are some tips for you!
Look for references
Search for references and artists with the style you're trying to drawing in for inspiration and motivation! Also, you can try studying their style and figure out what makes them unique. For example, the way they use colours, the way they draw lines, the way they shade etc.
Get out of your comfort zone
Don't be afraid to try out new things! Drawing males for me was a big challenge however I went through with the challenge and it has made me realise that it's not as difficult as I thought it'd be to draw guys.
Enjoy the process
The most important thing is to have fun! Enjoy the process and learn something from it! Every challenge should help you in certain amounts in your artist journey!
Start your digital drawing journey today with Clip Studio Paint!
Try out the Clip Studio Paint 30 days free trial!
It is the app for artists, designed for drawing & painting. Open the door to creativity without limits, with specialized features for illustration, comics, manga, webtoons, concept art, design, and animation built-in.
It is the main software that I use for my digital drawings. It is a cheaper(one-time payment!) alternative to Photoshop.
I hope you've enjoyed reading this post and has found it useful. If you purchase anything through the affiliate links that I've provided, I'll get a small amount of commission (at no extra cost to you!) which helps me continue writing art-related blog posts and tutorials like this one.
You may also be interested in:

Support me on Ko-fi! Your donations and support mean a lot to me and it helps me keep doing what I'm doing!
Like my artworks? You can get them in prints, stickers or badges form on my Etsy shop!
Follow me on Instagram to see more of my art!