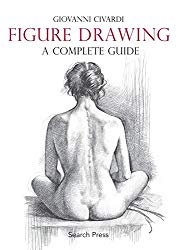 Title: Figure Drawing: A Complete Guide
Author: Giovanni Civardi
Publisher: Search Press Limited
Year: 2017
Number of Pages: 440
Available at: Amazon
Book Description
This book is a must-have for anyone interested in figure drawing, it contains extensive studies of the human anatomy, written by Giovanni Civardi, a master artist. Focus is placed particularly on the faces, hands, feet and the skill of portraying drapery. Civardi gives technical advice and practical tips throughout the book, accompanied by his own exceptional drawings, this book is an invaluable resource for artists of any kind and experience.
About the Author
Along with studying medicine and surgery, Giovanni Civardi was also training to become an illustrator, sculptor and portrait artist at the Free Life-Study School of the Accademia di Brera. He produced commissions for newspapers, magazines and book covers as an illustrator for over a decade. He also made frequent trips to France and Denmark. where he held his own exhibitions and studied the relationship between the human form as depicted by artist and medial anatomy, which he is passionate about. He has teached anatomy, life drawing and portraiture in many institutions and school for many years where he gained his experience and in turn led to the numerous art instructional books he has written and published.
Content
Below is a short summary of what's included in each chapter:
Drawing techniques
Shows you the different types of tools, materials and techniques for drawing. Lots of illustrations to showcase the use of different materials and tools. Some of the drawing tools talked about are pencil, graphite, charcoal, chalk, ink, watercolour, mixed media etc. This chapter ends with a short introduction to life drawing and practical advice for drawing and using the materials.
Understanding human form and structure
Starts off with some overall information and basics on the human body and considerations when drawing them. Then, it shows you 3 different types of anatomical drawing methods. This book goes from inside out, first, you will learn the skeletons of the human, body, then the muscles.
The nude
talks about various components that need to be taken into considerations when drawing the nude, such as proportion, gravity, form, measurement, balance, perspective, foreshortening, tone, rhythm etc. Many finished nude drawings with descriptions at the side explaining the process or tips to take note of.
Sketching people
Shows you materials and tools needed and how to start sketching people, focusing on the head then full figure. How to draw statues.
Heads and faces
This chapter focuses on drawing the head and face. Starts with composition for portraits. Talks more about the internal and external structures of the head. Step by step drawing illustrations using different mediums: pencil, watercolour, gouache. Drawing the head of people from different age groups: adults, infants, youths and elderly people.
Drawing hands and feet
Practical advice on drawing the hands and feet. Simplify them into geometric forms to understand the structure better. Detailed drawing and explanation of the skeleton and muscles of the hands and feet. How to get the right proportion, create movement, gesture and various different shapes that the hands and feet can make. Drawings of different types of hand and feet: females, males, infants and the elderly.
Clothing on figures
Teaches you the different types of fold a piece of cloth can make, how to create forms on folds using light and shadow, some practical considerations. Talks about how cloth and the human form interact with each other to create different types of folds. Drawing illustrations and explanation of drapery drawings on figures.
My Review
This book is great for beginners who are completely new to life drawing or want to improve their drawing skills. The different sections can be read seperatly so you can pick where you want to begin first. I'd recommend going through the skeletons first then the muscles. I like the illustrations of the muscles, the drawings show the different layers of muscles and how the layers overlap with each other in different angles, so you can have a good understanding of how the deeper muscles look like as well. This book is also filled with beautiful illustrations by the artist which are great for copying or referencing on your own for practice. The last part on drapery was especially useful for me, I've always had trouble drawing folds on clothes, so understanding the structure of folds and its interaction with the human body has helped me understand how to draw folds better.
If you are interested in reading this book, you can buy it here!
I hope you've enjoyed reading this review and find it useful. If you buy the book through the link I've provided, I get a small amount of commission(no extra cost for you) which help me continue making reviews like this.