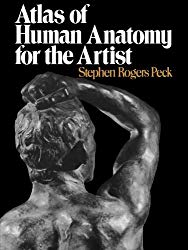 Title: Atlas of Human Anatomy for the Artist
Author: Stephen Rogers Peck
Publisher: Oxford University Press
Year: 1982
Pages: 288
Available at: Amazon
About the Artist
Stephen Rogers Peck joined anatomy classes at the College of Medicine while he was studying at the Syracuse University School of art. He first worked as a medical illustrator, later on at the Academie Julian in Paris, he studied fresco painting. He became a drawing instructor at Syracuse after being a commissioned portrait painter for 3 years. After that, he was a lecturer at Pratt Institue and Parsons School of Design, teaching anatomy.
Book Description
Atlas of Human Anatomy for the Artist by Stephen Rogers Peck's remains unrivalled as a manual for anatomy students. It includes various sections on what you need to know to learn anatomy drawing, which are bones, muscles, surface anatomy, proportion, equilibrium, and locomotion. There are also more unique features, such as sections on the types of human physique, anatomy from birth to old age, an orientation on the anatomy of different races, and an analysis of various facial expressions. The wealth of information provided by the Atlas secures its place as a classic for the study of the human form. The comprehensive reference on the structure and depiction of the human form is comprised of technical information and numerous drawings and photographs.
Content
The Language of Anatomy
In this section, you will be shown a list of technical words used when naming or describing bones, muscles and their positions.
Part I: Bones
Starts off with a diagram classifying all the bones in the human body with their respective names. Talks about some basic properties of the skeleton and joints before going through each bone in the body starting from head to toe. Together with detailed illustrations and smaller or simpler sketches to help you understand the structure better, he explains the shape of the bones, special properties, their function, use etc.
Part II: Muscles
A short introduction of muscles followed by tables of all the muscles, each of their technical name, origin, insertion, action and name derivation. Each section is also accompanied by detailed illustrations of the muscles and simpler drawings to show you how they look like in different angles and poses.
Part III: Surface Anatomy
The first part of this section talks about the characteristic of fat on the human body and how they are distributed around the different areas of the body. He then talks about the skin, hair and each facial feature in detail, followed by the nails, navel and breasts. This section ends with a list of photos of a male nude in different poses, showing off various surface landmarks talked about throughout the book.
Part IV: Proportion
Here he talks about proportions for the male and female body, in height and in width. Then he talks about different body types and shows you a scientific system that classifies these body types.
Part V: Equilibrium and Locomotion
Here he explains to you how the human body stays in balance and moves about.
Part VI: Distinctions of Age, Sex and Race
This section talks about how your age, sex and race can affect how you look, such as body proportions, facial features, skin colour, fat storage etc.
Part VII: Agents of Expression
Talks about different facial expression and both physical and biological reactions to certain emotion and actions.
Interested in the book? Click here to get it now!
My Review
In my opinion, this book will be great for people who already have some knowledge of anatomy. I think that it may be difficult for complete beginners to read through as there are Lots of technical terms for muscles bones etc. There are very realistic illustrations of muscles but doesn't section them out individually so difficult for beginners to learn, especially if they are visual learners. The detailed list of all the muscles origin, insertion and action are is good for more passionate learners who want to understand and learn anatomy at a deeper depth. There are lots of detailed illustration to help to understand. There are also smaller drawings or sketches to deepen your knowledge on.
Personally, since I already learnt most of the muscles on the human body I was able to read through the book without too much problem. It does get dry at times but it's a book I'm going to look back and reference at, especially the table of muscles and their properties.
Interested in the book? Click here to get it now!
I hope you've enjoyed reading this book review, if you are interested in purchasing this book please click here. When you purchase a book through the affiliate links I've provided, I get a small commission( at no extra cost to you!) which help me keep writing reviews like this one.
You may also be interested in: